Best shrink wrap machine for food
When it comes to packaging food items, choosing the right method is crucial to ensure freshness, protection, and aesthetics. Among the various packaging machines available, a shrink wrap machine stands out as a popular choice, particularly for hard fresh produce like cucumbers and cabbages, frozen food that can be scattered like pizza, and any food items with trays. The reason is that shrink wrapping food items offer enhanced visual appeal, prolonged shelf life, and more cost-effective packaging. Let's explore the benefits of using shrink wrap for food packaging, the different types of packaging it offers, and the best shrink wrap machines for different types of food.
Types of Shrink Packaging for food
There are two primary types of shrink packaging for food items:
Hard fresh produce like cucumbers and cabbages, as well as frozen food items like pizza, can be directly shrink wrapped. The shrink wrap serves as the primary packaging, directly in contact with the food products.
For soft or fragile food items like bread and fruits, a primary container or tray is used for protection, and the shrink wrap acts as secondary packaging. Similarly, instant food boxes can be shrink wrapped to create a single, secure packaging solution. It holds the primary container securely in place and provides an additional layer of protection during transportation.
The Best Shrink Wrap Machines for Food
Selecting the right shrink wrap machine is essential to ensure efficient and effective packaging and cost-saving in the long term. We highly recommend you consult with our experienced packaging machine experts for personalized recommendations based on your food items. Take advantage of our free packaging consultation by clicking here. In general, three distinct options are available for food shrink wrap machines: Hood sealers(also known as one-step sealers), L-bar sealers + Shrink tunnels, and Side sealers + Shrink tunnels. Below are our recommended top models for different scenarios: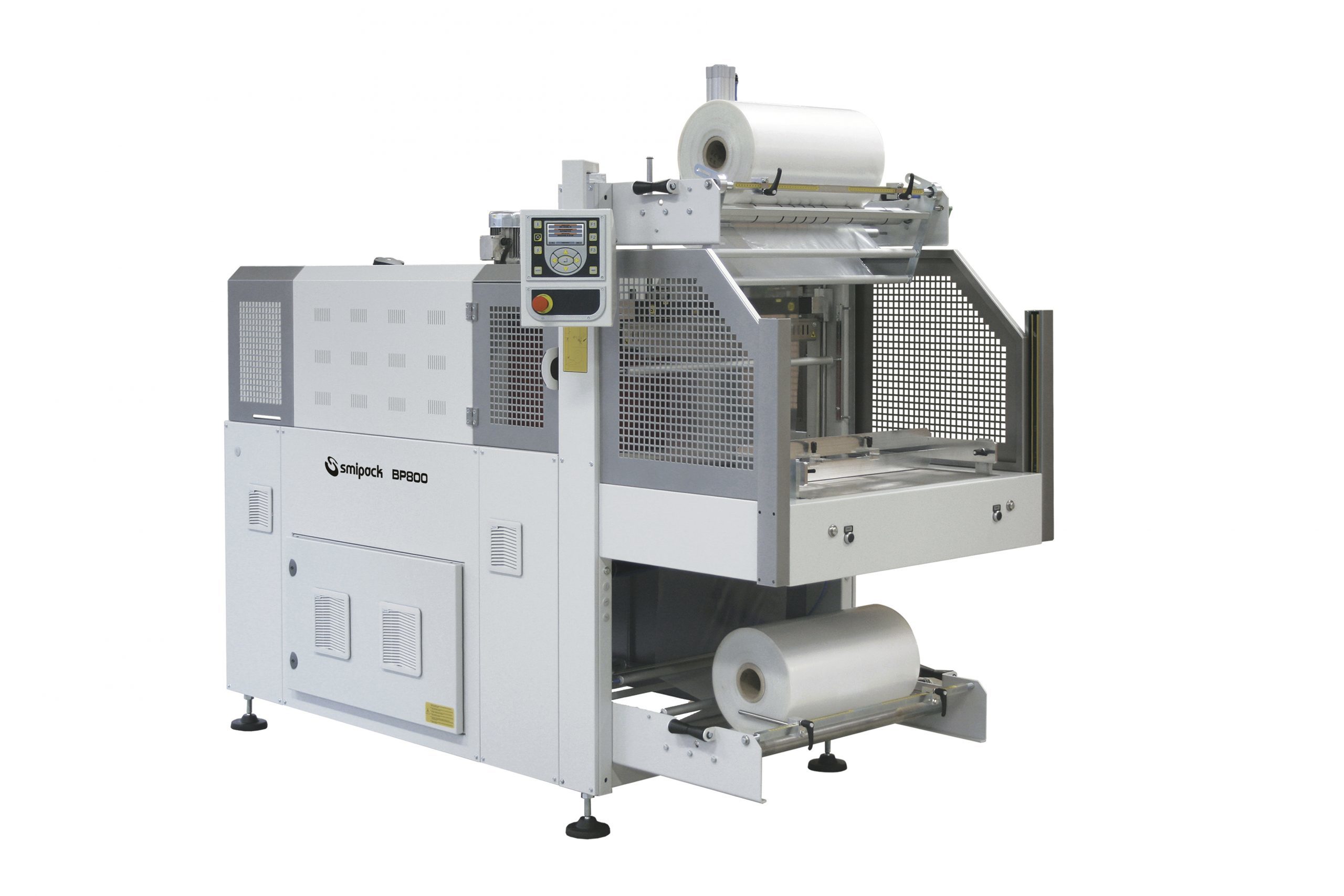 Bundle Wrappers are extremely versatile and perfect for packing glass, PET bottles, cans, boxes, trays, jar, and cartons of different sizes in a wide range of pack collations. They can be used in several industry segments, for example, Beverages, Food, Chemicals, wine and spirits, cosmetics, wood, textiles, graphics, etc.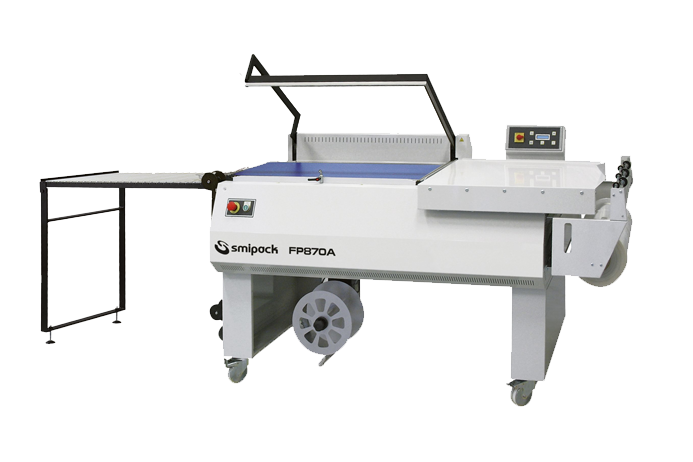 Our semi-automatic L Bar Sealers are the perfect machines for low to medium volume shrink applications.  An operator sets the seal time and heat, then inserts a product between the two layers of center folded shrink film, then presses down on the sealing bar. Once the seal is complete, the package is pulled away from the seal area.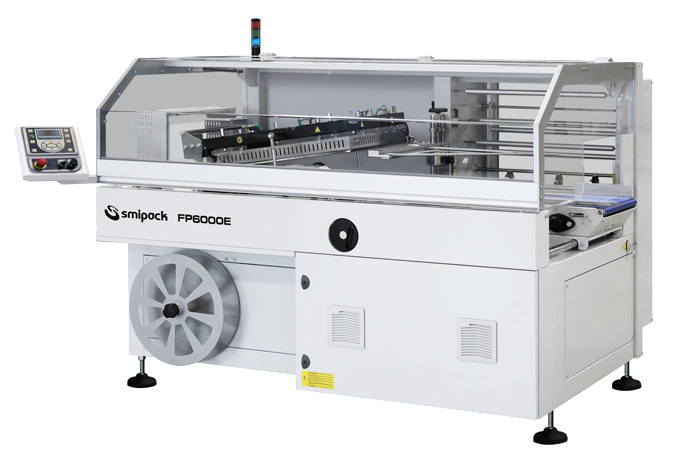 Automatic L-bar sealers are perfect for center-folded shrink-wrap applications, where speed is a factor. They use center-folded shrink film, a conveyor feeds the product into the film and into the sealing area. Vertical/horizontal photocell sensors determine when to activate the jaw sealer. Once the product is sealed, a conveyor automatically feeds the sealed product into a shrink tunnel.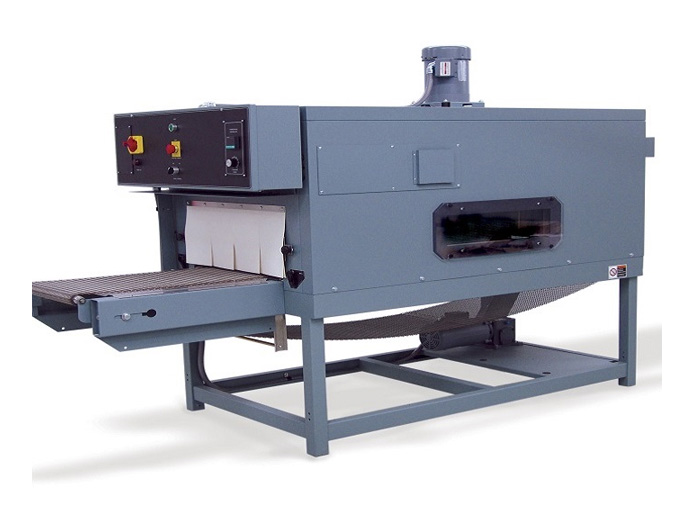 Shrink Tunnels are used with sealers to apply heat to the film so the film shrinks perfectly around the product.  They can come in two different conveyor configurations: Roller or Belted. Both conveyors can be used with polyolefin, PVC sleeves, and polyethylene films. The space between these rollers allows hot air from the bottom to shrink the film around the product to create a tight sealed package.
SMI SL45 SHRINK WRAP HOOD SEALEr
A great one-step sealer shrink wrapping machine
 This Hood Sealer both wraps and shrink seals a product – no need for a tunnel
 Useable Films: Pvc, Polyolefins
 Reasonably Priced Entry Level Wrapping Machine
The most versatile shrink sleeving / bundle wrapping machine
  Fully Electric – Very Little Noise While Running

  Semi-Automatic Shrink Wrap Bundler – Ideal for 1 – 60 Packs Per Hour

  All-In One Shrink Wrapping System – No need for a additional tunnel

  Can Wrap Product With or Without Trays
  Pneumatic product pusher, activated by two buttons
HEATSEAL HDX 250 semi-automatic L-BAR sealer
A great entry level l bar sealer shrink wrapping machine
 Models HDX250 and HDX350
 Overall Dimension, 82" Long x 32" Wide x 59" High
 L Bar Seal Area, 17" Wide x 21" Long
 Film Capacity, 22" Wide
 Multiple profile options, Cycle counter, Heavy Duty Aluminum seal head, non-stick mesh tunnel belt
 MaxAir tunnel almost triples the airflow and evenly wraps air around package
get a free consultation today!
SMI FP6000 HIGH SPEED AUTOMATIC L-BAR SEALER
A high speed automatic l bar sealer shrink wrapping machine
  Up to 50 Packages Per Min.
  Fully Automatic SMI L Bar Sealer
  Max Product Height: 6″
  Max Centerfold Film: 24″
  The L-Seal design provides great flexibility and quick product change.
  Reliable, Versatile, Reasonably Priced and Built to Last.
SMI HS500 HIGH SPEED SIDE SEALER
A side sealing shrink wrapping solution, for when high speed is a factor
  Up to 50 Packages Per Min.
  Fully Automatic SMI L Bar Sealer
  Max Product Height: 6″
  Max Centerfold Film: 24″
  The L-Seal design provides great flexibility and quick product change.
  Reliable, Versatile, Reasonably Priced and Built to Last.
SHANKLIN T-71 SHRINK TUNNEL
  22″ x 12″ Chamber Opening
  High Speed from 25 to 150 ft/.min
  Versatile, Easy to Use Product
  Features high-speed dual-chamber tunnel for the ultimate shrinking capacity
Have a question about equipment or service?
Just give us a call or send us a message with the form below. One of our customer service representatives would be happy to help you with whatever you need.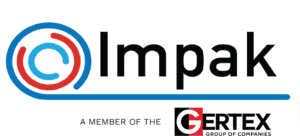 Impak Packaging Systems Inc.
400 Flint Rd.
North York, Ontario
M3J 2J4
Phone: 416-299-0960
Fax: 416-299-0961
Email: [email protected]